Len Vlahos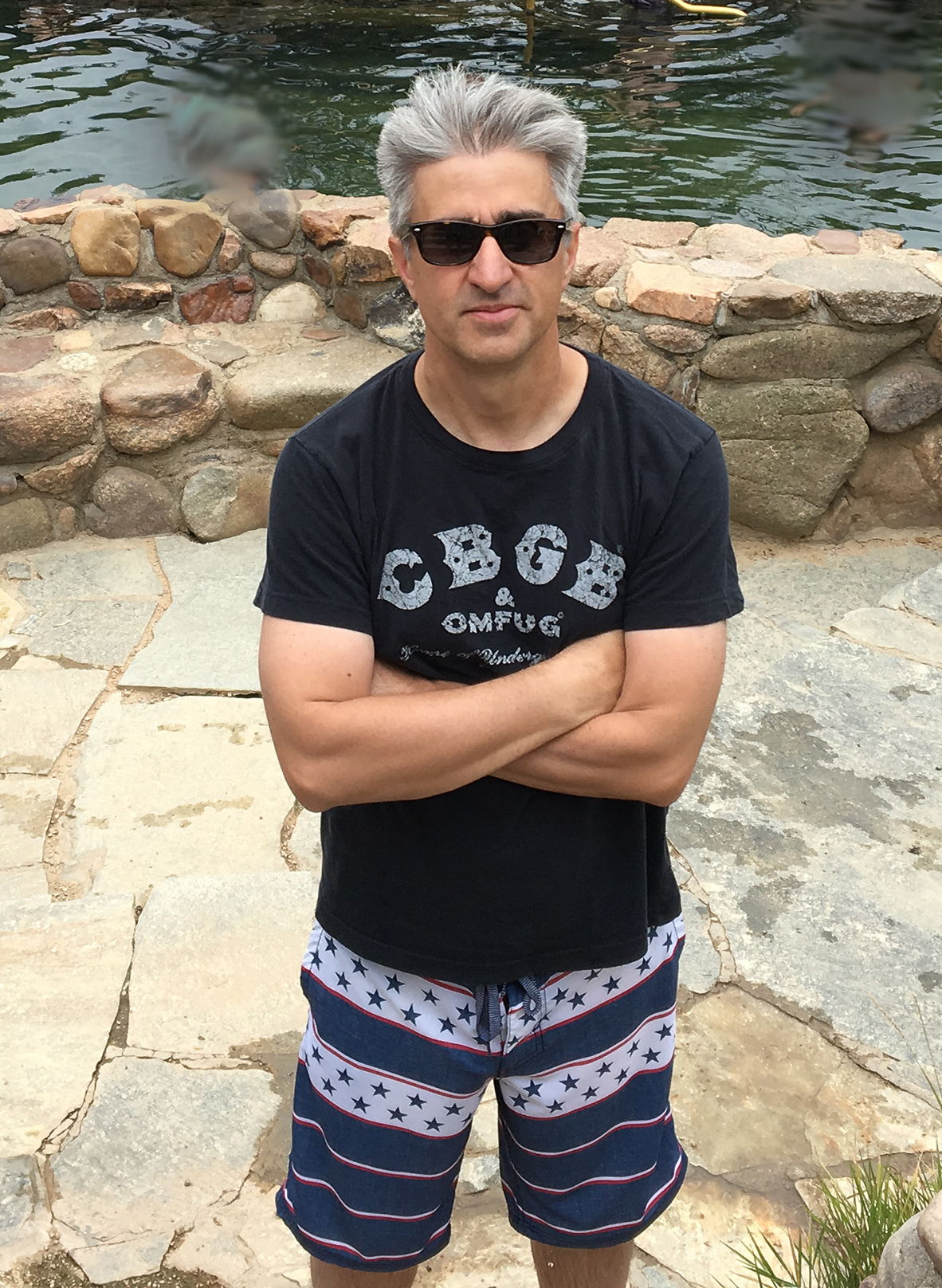 I'm the author of three young adult novels: The Scar Boys (Lerner Publications), a finalist for the American Library Association's 2014 Morris Award for best debut teen fiction; its sequel, Scar Girl (Lerner Publications); and Life in a Fishbowl, (Bloomsbury), which published in the U.S. in January 2017 and has been published in 12 languages and 18 countries. I have two more books scheduled for publication, Hard Wired from Bloomsbury (April 2020), and a book in collaboration with the awesome bestselling young adult author, Julie Halpern, coming from Feiwel & Friends (2021) .
Before all that, I dropped out of NYU film school in the 1980s to play guitar and write songs for the punk-pop band, Woofing Cookies. My experience with the Cookies was the inspiration for The Scar Boys. I spent the next 30 years working in a variety of jobs in the book industry, and today, along with my wife and partner in all crimes and misdemeanors, Kristen Gilligan, am the owner of the Tattered Cover Bookstores in Denver.
I hardly ever gets to use my blackbelt in Taekwondo (you can still beat me up, but I'm going to look good while you do it), and spends my free time playing ice hockey. Kristen, our two sons, very energetic dog, Shea, and I live on the coolest cul-de-sac in Colorado. You can find us there making S'mores with their neighbors many summer and fall nights.
Not sure which books to read? Let our TBF authors tell you which ones they recommend! Visit our Resources page, then scroll down to "TBF One Book Recommendations". You will also find a more complete list of books by each author under TBF Book List.
The Scar Boys: The Scar Boys series (Book 1)
Realistic Fiction, 9781606844397
Recommended for teens

A severely burned teenager. A guitar. Punk rock. The chords of a rock 'n' roll road trip in a coming-of-age novel that is a must-read story about finding your place in the world...even if you carry scars inside and out. In attempting to describe himself in his college application essay--help us to become acquainted with you beyond your courses, grades, and test scores--Harbinger (Harry) Jones goes way beyond the 250-word limit and gives a full account of his life.

Scar Girl: The Scar Boys series (Book 2)
Realistic Fiction, 9781606846070
Recommended for teens

When The Scar Boys ended, the band has fallen apart. Harry and Johnny are barely speaking, and Cheyenne is feeling desperate about Johnny, who has retreated into silence. It's only through their music that the group is able to rebuild their relationships, and they slowly begin to reach musical success and fame. In Scar Girl, Cheyenne, Harry, and Richie tell their own stories as they discover the ups and downs of being rock musicians—including meltdowns on stage, too much drinking, keeping secrets that should be shared, and having fights that test the limits of their friendship. The band's reputation grows and grows, but will the kids themselves survive?

Life in a Fishbowl
Realistic Fiction, 9781681190358
Recommended for teens

Fifteen-year-old Jackie Stone is a prisoner in her own house. Everything she says and does 24/7 is being taped and broadcast to every television in America. Why? Because her dad is dying of a brain tumor and he has auctioned his life on eBay to the highest bidder: a ruthless TV reality show executive at ATN. Gone is her mom's attention and cooking and parent-teacher conferences. Gone is her sister's trust ever since she's been dazzled by the cameras and new-found infamy. Gone is her privacy. Gone is the whole family's dignity as ATN twists their words and makes a public mockery of their lives on Life and Death. But most of all, Jackie fears that one day very soon her father will just be . . . gone. Armed only with her ingenuity and the power of the internet, Jackie is determined to end the show and reclaim all of their lives, even in death.

Hard Wired
Science Fiction, 9781681190372
Recommended for teens

Quinn thinks he's a normal boy with an average life. That is, until he finds a trail of clues the father he barely knew left behind. After Quinn unravels his father's puzzles, he "wakes up" ... and realizes his world was nothing more than a virtual construct. In reality, he's the first fully-aware A.I. in the world, part of an experiment run by a team of scientists—including the man he thought was his father. As the scientists continue to study him, Quinn's new existence becomes a waking nightmare. Determined to control his own destiny, he finds allies in other teens—including crush Shea—and plots his escape. But what does true freedom look like when you're not human?