Jason Reynolds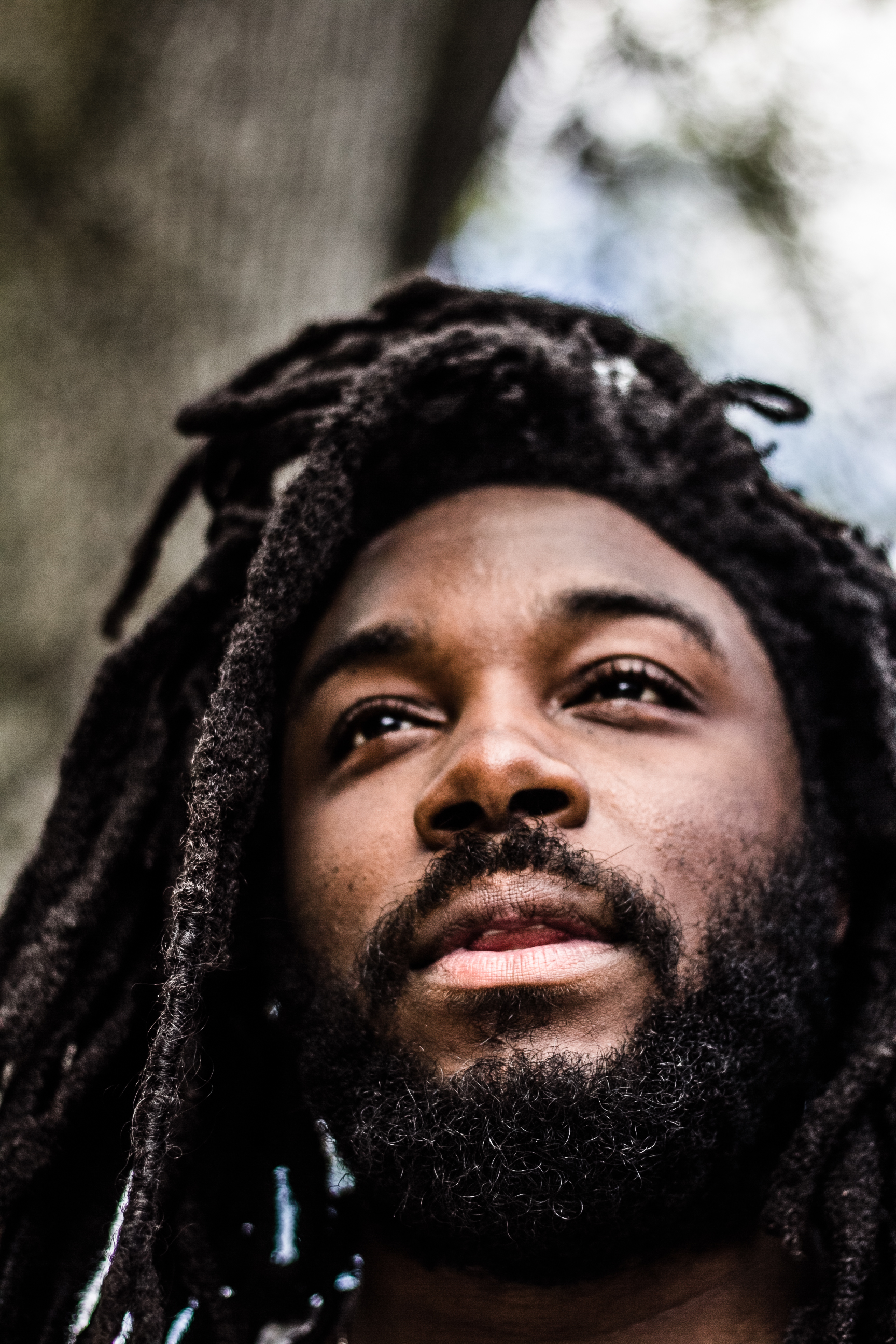 I graduated from the University of Maryland (where I spent about 65% of my time writing and reciting poetry all over campus...yeah, that was me) with a B.A. in English, then packed my bags and moved to Brooklyn because somebody told me they were giving away dream-come-true vouchers. And if I ever find the person who told me that... let's just say, no one was giving away anything. ANYTHING. Lucky for me I had all these crazy stories to keep me going. Ten years later, here I am, doing my best to string together an "ABOUT" section on my own website about my own books. Crazy.
Not sure which books to read? Let our TBF authors tell you which ones they recommend! Visit our Resources page, then scroll down to "TBF One Book Recommendations". You will also find a more complete list of books by each author under TBF Book List.
All American Boys
Realistic Fiction, 9781481463331
Recommended for teens

Rashad is absent again today. That's the sidewalk graffiti that started it all… Well, no, actually, a lady tripping over Rashad at the store, making him drop a bag of chips, was what started it all. Because it didn't matter what Rashad said next—that it was an accident, that he wasn't stealing—the cop just kept pounding him. Over and over, pummeling him into the pavement. So then Rashad, an ROTC kid with mad art skills, was absent again…and again…stuck in a hospital room. Why? Because it looked like he was stealing. And he was a black kid in baggy clothes. So he must have been stealing. And that's how it started. And that's what Quinn, a white kid, saw. He saw his best friend's older brother beating the daylights out of a classmate. At first Quinn doesn't tell a soul…He's not even sure he understands it. And does it matter? The whole thing was caught on camera, anyway. But when the school—and nation—start to divide on what happens, blame spreads like wildfire fed by ugly words like "racism" and "police brutality." Quinn realizes he's got to understand it, because, bystander or not, he's a part of history. He just has to figure out what side of history that will be. Rashad and Quinn—one black, one white, both American—face the unspeakable truth that racism and prejudice didn't die after the civil rights movement. There's a future at stake, a future where no one else will have to be absent because of police brutality. They just have to risk everything to change the world. Cuz that's how it can end.

As Brave as You
Middle School, Realistic Fiction, 9781481415910
Recommended for teens

When two brothers decide to prove how brave they are, everything backfires--literally.

For Every One
Non-Fiction, 9781481438254
Recommended for teens

For Every One is just that: for every one. For every one person. For every one dream. But especially for every one kid. The kids who dream of being better than they are. Kids who dream of doing more than they almost dare to dream. Kids who are like Jason Reynolds, a self-professed dreamer. Jason does not claim to know how to make dreams come true; he has, in fact, been fighting on the front line of his own battle to make his own dreams a reality. He expected to make it when he was sixteen. Then eighteen. Then twenty-five. Now, some of those expectations have been realized. But others, the most important ones, lay ahead, and a lot of them involve kids, how to inspire them. All the kids who are scared to dream, or don't know how to dream, or don't dare to dream because they've NEVER seen a dream come true. Jason wants kids to know that dreams take time. They involve countless struggles. But no matter how many times a dreamer gets beat down, the drive and the passion and the hope never fully extinguish—because just having the dream is the start you need, or you won't get anywhere anyway, and that is when you have to take a leap of faith.

Long Way Down
Verse, 9781481438254
Recommended for teens
Recommended to read before TBF

A cannon. A strap. A piece. A biscuit. A burner. A heater. A chopper. A gat. A hammer A tool for RULE Or, you can call it a gun. That's what fifteen-year-old Will has shoved in the back waistband of his jeans. See, his brother Shawn was just murdered. And Will knows the rules. No crying. No snitching. Revenge. That's where Will's now heading, with that gun shoved in the back waistband of his jeans, the gun that was his brother's gun. He gets on the elevator, seventh floor, stoked. He knows who he's after. Or does he? As the elevator stops on the sixth floor, on comes Buck. Buck, Will finds out, is who gave Shawn the gun before Will took the gun. Buck tells Will to check that the gun is even loaded. And that's when Will sees that one bullet is missing. And the only one who could have fired Shawn's gun was Shawn. Huh. Will didn't know that Shawn had ever actually USED his gun. Bigger huh. BUCK IS DEAD. But Buck's in the elevator? Just as Will's trying to think this through, the door to the next floor opens. A teenage girl gets on, waves away the smoke from Dead Buck's cigarette. Will doesn't know her, but she knew him. Knew. When they were eight. And stray bullets had cut through the playground, and Will had tried to cover her, but she was hit anyway, and so what she wants to know, on that fifth floor elevator stop, is, what if Will, Will with the gun shoved in the back waistband of his jeans, MISSES. And so it goes, the whole long way down, as the elevator stops on each floor, and at each stop someone connected to his brother gets on to give Will a piece to a bigger story than the one he thinks he knows. A story that might never know an END…if WILL gets off that elevator.

Miles Morales: Spider-Man
9781484787489
Recommended for teens

After a misunderstanding leads him to be suspended from school, Miles Morales feels conflicted about his identity as the new Spider-Man, but when his scholarship is threatened, he uncovers a plot that puts his friends and neighborhood at risk.

Ghost: Track Series (Book 1)
Realistic Fiction, 9781481450157
Recommended for teens

Running. That's all that Ghost (real name Castle Cranshaw) has ever known. But never for a track team. Nope, his game has always been ball. But when Ghost impulsively challenges an elite sprinter to a race -- and wins -- the Olympic medalist track coach sees he has something: crazy natural talent. Thing is, Ghost has something else: a lot of anger, and a past that he is trying to outrun. Can Ghost harness his raw talent for speed and meld with the team, or will his past finally catch up to him?

Patina: Track Series (Book 2)
Realistic Fiction, 9781481450188
Recommended for teens

Patina, or Patty, runs like a flash. She runs for many reasons—to escape the taunts from the kids at the fancy-schmancy new school she's been sent to since she and her little sister had to stop living with their mom. She runs from the reason WHY she's not able to live with her "real" mom any more: her mom has The Sugar, and Patty is terrified that the disease that took her mom's legs will one day take her away forever. So Patty's also running for her mom, who can't. But can you ever really run away from any of this? As the stress builds up, it's building up a pretty bad attitude as well. Coach won't tolerate bad attitude. No day, no way. And now he wants Patty to run relay…where you have to depend on other people? How's she going to do THAT?

Sunny: Track Series (Book 3)
Realistic Fiction, 9781481450218
Recommended for teens

Sunny is just that—sunny. Always ready with a goofy smile and something nice to say, Sunny is the chillest dude on the Defenders team. But Sunny's life hasn't always been sun beamy-bright. You see, Sunny is a murderer. Or at least he thinks of himself that way. His mother died giving birth to him, and based on how Sunny's dad treats him—ignoring him, making Sunny call him Darryl, never "Dad"—it's no wonder Sunny thinks he's to blame. It seems the only thing Sunny can do right in his dad's eyes is win first place ribbons running the mile, just like his mom did. But Sunny doesn't like running, never has. So he stops. Right in the middle of a race. With his relationship with his dad now worse than ever, the last thing Sunny wants to do is leave the other newbies—his only friends—behind. But you can't be on a track team and not run. So Coach asks Sunny what he wants to do. Sunny's answer? Dance. Yes, dance. But you also can't be on a track team and dance. Then, in a stroke of genius only Jason Reynolds can conceive, Sunny discovers a track event that encompasses the hard hits of hip-hop, the precision of ballet, and the showmanship of dance as a whole: the discus throw. As Sunny practices the discus, learning when to let go at just the right time, he'll let go of everything that's been eating him up inside, perhaps just in time.
When we asked our authors what they were or might have been voted in HS, Jason answered I was actually voted Most Likely to Stick to One's Beliefs! TRUE STORY!.
Other Fun Facts
I have over ten tattoos.
I've worn the same ring every single day since I was sixteen.
I was a high school athlete, track and wrestling.
I collect beautiful objects - bicycles, books, instruments, toys, games, etc.
I learned to crochet when I was young and I am REALLY good at it.
If I were a superhero my name would be Jason. Why not have a regular name? And my super power would be something not very exciting like...flying, just so people could say, "Look! It's...Jason, flying around!"
If you can only read one of my books before TBF you should read Long Way Down. Because it's awesome. Hahahaha. And you can read the whole thing in an hour.