Ridley Pearson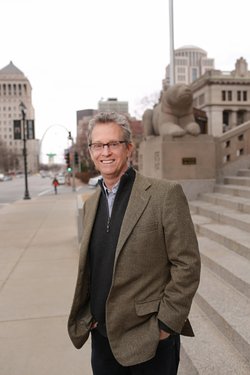 Not sure which books to read? Let our TBF authors tell you which ones they recommend! Visit our Resources page, then scroll down to "TBF One Book Recommendations". You will also find a more complete list of books by each author under TBF Book List.
Kingdom Keepers (Book 1): Disney After Dark
Fantasy
Recommended for teens

In this fantastical thriller, five young teens tapped as models for theme park "guides" find themselves pitted against Disney villains and witches that threaten both the future of Walt Disney World and the stability of the world outside its walls. Using a cutting-edge technology called DHI--which stands for both Disney Host Interactive and Daylight Hologram Imaging--Finn Whitman, an Orlando teen, and four other kids are transformed into hologram projections that guide guests through the park. The new technology turns out, however, to have unexpected effects that are both thrilling and scary. Soon Finn finds himself transported in his DHI form into the Magic Kingdom at night. Is it real? Is he dreaming? Finn's confusion only increases when he encounters Wayne, an elderly Imagineer who tells him that the park is in grave danger. Led by the scheming witch, Maleficent, a mysterious group of characters called the Overtakers is plotting to destroy Disney's beloved realm, and maybe more. This gripping high-tech tale will thrill every kid who has ever dreamed of sneaking into Walt Disney World after hours and wondered what happens at night, when the park is closed.

Kingdom Keepers (Book 2): Disney at Dawn
Fantasy
Recommended for teens

It's supposed to be a happy day at the Magic Kingdom-the return of the teenaged holographic hosts. But things go very wrong when a sudden lightning storm disrupts the celebration, and Amanda's mysterious sister, Jez, disappears. The only clue is the sighting of a wild monkey in the Magic Kingdom during the storm. The mystery deepens as Finn is contacted by Wayne, an old man he hasn't heard from in months. Wayne tells Finn that there's trouble at the Animal Kingdom: the evil Overtakers have gained control of one of the computer servers that will be used to operate Daylight Holographic Imaging there. That means that if any of the holographic hosts fall asleep, they will go into comas-permanently.

Kingdom Keepers: The Return Series (Book 1): Disney Lands
Fantasy
Recommended for teens

With the defeat of the Overtakers behind them, the five teenagers known as the Kingdom Keepers should be celebrating. By all accounts they saved Disneyland from certain destruction. Why then did their mentor leave one last puzzle for them to decipher? The Keepers must solve a puzzle of the past, or be crushed under an evil that makes the Overtakers seem like gentle souls.

Kingdom Keepers: The Return Series (Book 2): Legacy of Secrets
Fantasy
Recommended for teens

Disneyland, Opening Day, 1955. When five present-day teenagers known as the Kingdom Keepers find themselves thrown into a past that would make anyone envious, things don't exactly work out the way they'd hoped. Finn, Charlene, Maybeck, Willa, and Philby open a door into a place and a time when the legend of the Disney parks is just starting. They are there, in 1955, to retrieve Walt Disney's infamous pen that once saved the parks as we know them. But like all things Disney, nothing is as it seems. The early days of the Tower of Terror, the origin of the Overtakers (Disney villains), and the real power of magic unfold in an unexpected series of events that propel both the Keepers and Disney itself into a darkness no one saw coming. Along the way, the Keepers visit Walt Disney's hilltop home, Disneyland's opening day and reception, and find themselves separated from friends sixty years away. The three Fairlies, young women in Disney's School of Imagineering, girls with astonishing powers of their own, have unmasked a long-buried secret that threatens the lives of their friends as well as everything Walt Disney worked for.
Interviews
Videos
When we asked our authors what they were or might have been voted in HS, Ridley answered Most Likely to Become a Folk Singer/Songwriter Like James Taylor.
Other Fun Facts
I climb trees.
I played music professional for 11 years.
I have recorded 2 LPs.
I am the youngest of 17 grandchildren.
Growing up I wanted to be a marine biologist.