Hannah Olin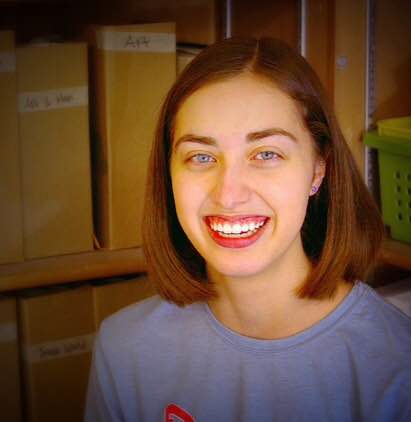 Hannah Olin is a senior at Fairport High School and author of the Ezio Ferrari series. She began writing at the age of seven, when her older brother introduced her to the world of short stories. She published her first book, Ezio Ferrari: Blood of an Assassin in November 2013, when she was a sophomore in high school. The second installation of the series, Ezio Ferrari: Family of Crows, was released a year later.
Inspired by the works of authors such as John Green, Eoin Colfer and Anthony Horowitz, Hannah writes in the genre of young adult fiction, and is continuing to grow and mature as a writer. Her favorite books include Looking for Alaska by John Green, The Art of Racing in the Rain by Garth Stein, The Great Gatsby by F. Scott Fitzgerald, and The Thief Lord by Cornelia Funke. In her free time, Hannah likes to watch Syracuse basketball, hang out with her friends, listen to music, and make subs at her local Wegmans sub shop.
Not sure which books to read? Let our TBF authors tell you which ones they recommend! Visit our Resources page, then scroll down to "TBF One Book Recommendations". You will also find a more complete list of books by each author under TBF Book List.
Ezio Ferrari (Volume 1): Blood of an Assassin

Recommended for teens

Ezio's simple errand of delivering a letter to his grandmother begins this action-packed adventure as he and his friends unravel the mystery of his family's past. Having relocated to Rome, Ezio's journey takes him to the northern towns of Italy - Rimini, Alessandria, and Verona - as he tries to stop a deadly threat on his favorite uncle, Samuele. At the end of his journey, Ezio and his friends come face to face with a dead man. Will Ezio fulfill his family's promise to become a world-class assassin? Or can he find a way to escape what some call his destiny? Follow Ezio and his friends' adventure as they try to control his future in this four-part series.

Ezio Ferrari (Volume 2): Family of Crows

Recommended for teens

Ezio Ferrari thought he controlled his life. He was wrong. After challenging his father's pact with the Hône Order of Assassins to induct him into their society, Ezio discovers his friends, family, and some unlikely allies will help him no matter what. Faced with a difficult set of options, the teen must hunt down a notorious killer known as Arcangelo Della Morte. Complications arise when Ezio inadvertently stops an assassination attempt, drawing the attention of an obsessive police detective determined to find out the truth about the boy. As he fights to regain control of his life and change his destiny, Ezio must make tough decisions to protect not only himself, but also those he loves. What can be done to return Ezio to the normal life he once lived?