Brittney Morris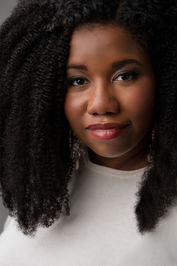 Hi, my name is Brittney Morris. I'm the author of SLAY, THE COST OF KNOWING, MARVEL'S SPIDER-MAN: MILES MORALES - WINGS OF FURY, and I've written for video games including The Lost Legends of Redwall and Subnautica: Below Zero. I have a BA in economics from Boston University and I spend my spare time reading, playing indie video games, and enjoying the rain from my home in Philly. I live with my husband Steven who would rather enjoy the rain from a campsite in the woods because he hasn't played enough horror games.
Not sure which books to read? Let our TBF authors tell you which ones they recommend! Visit our Resources page, then scroll down to "TBF One Book Recommendations". You will also find a more complete list of books by each author under TBF Book List.
The Cost of Knowing
Fantasy, Science Fiction, 9781534445451
Recommended for teens
Recommended to read before TBF

Sixteen-year-old Alex Rufus is trying his best. He tries to be the best employee he can be at the local ice cream shop; the best boyfriend he can be to his amazing girlfriend, Talia; the best protector he can be over his little brother, Isaiah. But as much as Alex tries, he often comes up short. It's hard to for him to be present when every time he touches an object or person, Alex sees into its future. When he touches a scoop, he has a vision of him using it to scoop ice cream. When he touches his car, he sees it years from now, totaled and underwater. When he touches Talia, he sees them at the precipice of breaking up, and that terrifies him. Alex feels these visions are a curse, distracting him, making him anxious and unable to live an ordinary life. And when Alex touches a photo that gives him a vision of his brother's imminent death, everything changes. With Alex now in a race against time, death, and circumstances, he and Isaiah must grapple with their past, their future, and what it means to be a young Black man in America in the present.

Slay
Science Fiction, 9781534445420
Recommended for teens
Recommended to read before TBF

By day, seventeen-year-old Kiera Johnson is an honors student, a math tutor, and one of the only Black kids at Jefferson Academy. But at home, she joins hundreds of thousands of Black gamers who duel worldwide as Nubian personas in the secret multiplayer online role-playing card game, SLAY. No one knows Kiera is the game developer, not her friends, her family, not even her boyfriend, Malcolm, who believes video games are partially responsible for the "downfall of the Black man." But when a teen in Kansas City is murdered over a dispute in the SLAY world, news of the game reaches mainstream media, and SLAY is labeled a racist, exclusionist, violent hub for thugs and criminals. Even worse, an anonymous troll infiltrates the game, threatening to sue Kiera for "anti-white discrimination." Driven to save the only world in which she can be herself, Kiera must preserve her secret identity and harness what it means to be unapologetically Black in a world intimidated by Blackness. But can she protect her game without losing herself in the process?
When we asked our authors what they were or might have been voted in HS, Brittney answered most likely to become a rapper. I wrote a few raps I'm not proud of back then..
Other Fun Facts
I was a barista for 7 years.
I've wanted to be a writer since I was 9.
When traveling, I pack ultralight (usually just one backpack and nothing else).
I'm a minimalist.
I love watching historical catastrophe documentaries.