Barry Lyga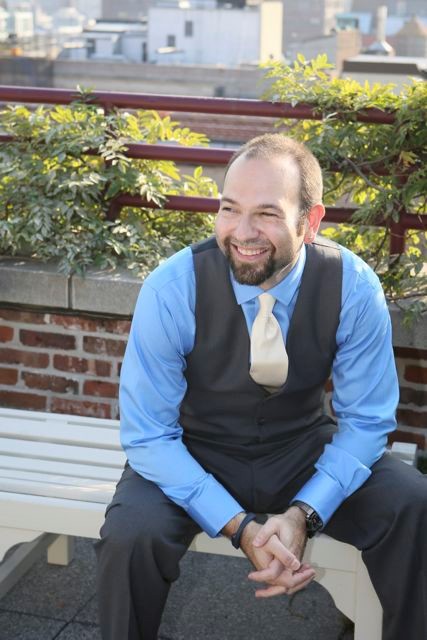 Called a "YA rebel-author" by Kirkus Reviews, Barry Lyga has published seventeen novels in various genres in his eleven-year career, including the New York Times bestselling I Hunt Killers. His books have been or are slated to be published in more than a dozen different languages in North America, Australia, Europe, and Asia.
After graduating from Yale with a degree in English, Lyga worked in the comic book industry before quitting to pursue his lifelong love of writing. In 2006, his first young adult novel, The Astonishing Adventures of Fanboy and Goth Girl, was published to rave reviews, including starred reviews from Booklist and School Library Journal. Publishers Weekly named Lyga a "Flying Start" in December 2006 on the strength of the debut.
His second young adult novel, Boy Toy, received starred reviews in SLJ, Publishers Weekly, and Kirkus. VOYA gave it its highest critical rating, and the Chicago Tribune called it "…an astounding portrayal of what it is like to be the young male victim." His third novel, Hero-Type, according to VOYA "proves that there are still fresh ideas and new, interesting story lines to be explored in young adult literature."
Since then, he has also written Goth Girl Rising (the sequel to his first novel), as well as the Archvillain series for middle-grade readers and the graphic novel Mangaman (with art by Colleen Doran).
His latest series is I Hunt Killers, called by the LA Times "one of the more daring concepts in recent years by a young-adult author" and an "extreme and utterly alluring narrative about nature versus nurture." The first book landed on both the New York Times and USAToday bestsellers lists.
Lyga lives and podcasts near New York City with his wife, Morgan Baden, their nigh-omnipotent daughter, and their preternaturally chill son. His comic book collection is a lot smaller than it used to be, but is still way too big.
Not sure which books to read? Let our TBF authors tell you which ones they recommend! Visit our Resources page, then scroll down to "TBF One Book Recommendations". You will also find a more complete list of books by each author under TBF Book List.
Hocus Pocus: The Flash (Book 1)
Middle School, 9781419728156
Recommended for teens

Race into action in this all-new original adventure based on the hit CW TV series, The Flash! In a timeline where Flashpoint never happened, The Flash (aka Barry Allen) must face a mysterious villain who can control the minds and actions of citizens. But when Hocus Pocus, as he calls himself, takes control of Barry, it's up to Team Flash to help the Scarlet Speedster before he's forced to do the unthinkable. Written by New York Times bestselling author Barry Lyga, this is one adventure fans of the TV series won't want to miss!

Johnny Quick: The Flash (Book 2)
Middle School, 9781419728655
Recommended for teens

Based on the hit CW TV show, this second title in The Flash middle-grade series follows Barry Allen as he continues his mission to protect Central City from the sinister Hocus Pocus—but this time, a new evil lurks beneath the city streets . . . Written by New York Times–bestselling author Barry Lyga, this brand-new, original adventure builds upon the world of The Flash. This is one fans won't want to miss!

The Flash: The Tornado Twins: The Flash series (Book 3)
Middle School, 9781419731242
Recommended for teens
Recommended to read before TBF

Catch up with the super adventures of Barry Allen, also known as the Flash, in the third book of this middle-grade series. Featuring adventures not seen on TV, Barry continues his mission to protect Central City from sinister plots. The book builds upon the world of the popular TV show in a new medium by author Barry Lyga.

I Hunt Killers: Jasper Dent (Book 1)
Suspense, 9780316125830
Recommended for teens

Jasper "Jazz" Dent is a likable teenager. A charmer, one might say. But he's also the son of the world's most infamous serial killer, and for Dear Old Dad, Take Your Son to Work Day was year-round. Jazz has witnessed crime scenes the way cops wish they could—from the criminal's point of view. And now bodies are piling up in Lobo's Nod. In an effort to clear his name, Jazz joins the police in a hunt for a new serial killer. But Jazz has a secret—could he be more like his father than anyone knows?

Game: Jasper Dent (Book 2)
Suspense, 9780316125857
Recommended for teens

In an effort to prove murder didn't run in the family, Jazz teamed with the police in the small town of Lobo's Nod to solve a deadly case. And now, when a determined New York City detective comes knocking on Jazz's door asking for help, he can't say no. The Hat-Dog Killer has the Big Apple–and its police force–running scared. So Jazz and his girlfriend, Connie, hop on a plane to the big city and get swept up in a killer's murderous game.

Blood of my Blood: Jasper Dent (Book 3)
Suspense, 9780316198714
Recommended for teens

Jazz has been shot and left to die in New York. His girlfriend, Connie, is in the clutches of Jazz's monstrous father, Billy--the world's most notorious serial killer. And his best friend, Howie, is bleeding to death on the floor of Jazz's new home. Somehow, these three must rise above the horrors and find a way to come together in pursuit of Billy. But then Jazz crosses a line he's never crossed before, and soon the entire country is wondering: "Like father, like son? Who is the true monster?" From New York City to the small town of Lobo's Nod, the chase is on, and this time, Jazz is the hunted, not the hunter--while Billy Dent lurks in the shadows. And beyond Billy? Something much, much worse. Prepare to meet...the Crow King.

The Secret Sea
Science Fiction, 9781250072832
Recommended for teens
Recommended to read before TBF

Twelve-year-old Zak Killian is hearing a voice. Could it be a guardian angel? A ghost? No, that's crazy. But sometimes the voice is so real. . . . It warns him of danger. One day Zak is standing on the subway platform when the tunnel starts to fill with water. He sees it before anyone else. The voice warns him to run. His friends Moira and Khalid believe this is more than a premonition, and soon all three find themselves in an alternate universe that is both familiar and seriously strange. As Zak unravels the mystery behind the voice, he faces decisions that may mean the end of their world at home―if they can even get home!

Bang
Realistic Fiction, 9780316315500
Recommended for teens
Recommended to read before TBF

Sebastian Cody did something horrible, something no one—not even Sebastian himself—can forgive. At the age of four, he accidentally shot and killed his infant sister with his father's gun. Now, ten years later, Sebastian has lived with the guilt and horror for his entire life. With his best friend away for the summer, Sebastian has only a new friend—Aneesa—to distract him from his darkest thoughts. But even this relationship cannot blunt the pain of his past. Because Sebastian knows exactly how to rectify his childhood crime and sanctify his past. It took a gun to get him into this. Now he needs a gun to get out.

The Hive
Fantasy, Science Fiction, 9781525300608
Recommended for teens
Recommended to read before TBF

Cassie McKinney has always believed in the Hive. Social media used to be out of control, after all. People were torn apart by trolls and doxxers. Even hackers - like Cassie's dad - were powerless against it. But then the Hive came. A better way to sanction people for what they do online. Cause trouble, get too many "condemns," and a crowd can come after you, teach you a lesson in real life. It's safer, fairer and perfectly legal. Entering her senior year of high school, filled with grief over an unexpected loss, Cassie is primed to lash out. Egged on by new friends, she makes an edgy joke online. Cassie doubts anyone will notice. But the Hive notices everything. And as her viral comment whips an entire country into a frenzy, the Hive demands retribution. One moment Cassie is anonymous; the next, she's infamous. And running for her life. With nowhere to turn, she must learn to rely on herself - and a group of Hive outcasts who may not be reliable - as she slowly uncovers the truth about the machine behind the Hive.

The Astonishing Adventures of Fanboy & Goth Girl (Book 1) (Available in Spanish through Hipocampo Booksellers)
Realistic Fiction, 9780618723928
Recommended for teens
Recommended to read before TBF

Fanboy has never had it good, but lately his sophomore year is turning out to be its own special hell. The bullies have made him their favorite target, his best (and only) friend seems headed for the dark side (sports and popularity), and his pregnant mother and the step-fascist are eagerly awaiting the birth of the alien life form known as Fanboy's new little brother or sister. Fanboy, though, has a secret: a graphic novel he's been working on without telling anyone, a graphic novel that he is convinced will lead to publication, fame, and—most important of all—a way out of the crappy little town he lives in and all the people that make it hell for him. When Fanboy meets Kyra, a.k.a. Goth Girl, he finds an outrageous, cynical girl who shares his love of comics as well as his hatred for jocks and bullies. Fanboy can't resist someone who actually seems to understand him, and soon he finds himself willing to heed her advice—to ignore or crush anyone who stands in his way.
Helpful Links
When we asked our authors what they were or might have been voted in HS, Barry answered being named one of the "Brain Trust".
Other Fun Facts
I've turned my house into a ridiculous smart home, where you can control almost everything with your voice.
As a kid, I figured out the truth about Santa Claus by fingerprinting my parents.
TBF introduced me to breakfast pizza...which I used in my book, BANG.
I once touched Bruce Springsteen's guitar...while he was playing it.
In order to write superheroes, I surround myself with action figures!