David Levithan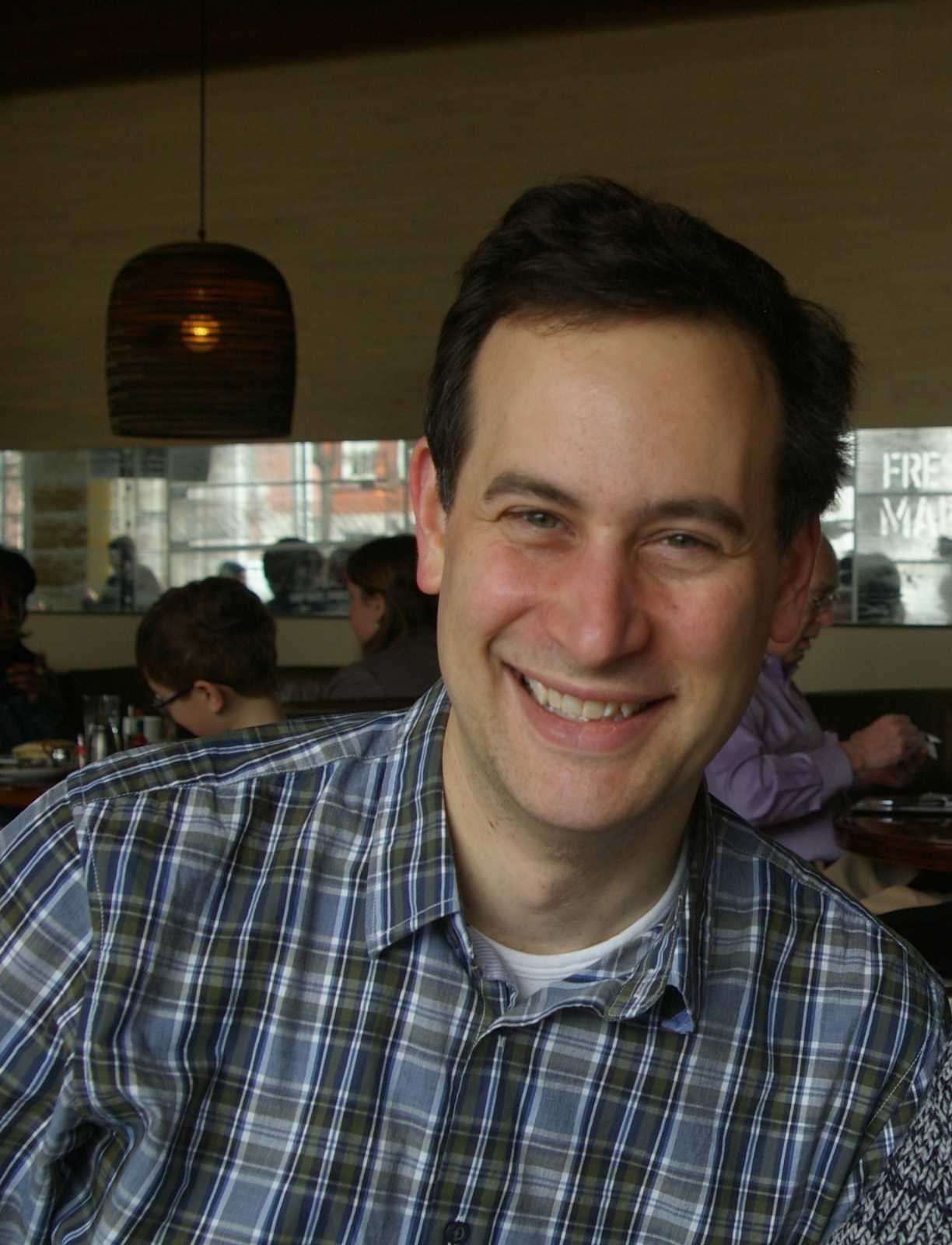 David Levithan finds it downright baffling to write about himself, which is why he's considering it somewhat cruel and usual to have to write this brief bio. The factual approach (born '72, Brown '94, book '03) seems a bit dry, while the emotional landscape (happy childhood, happy adolescence --- give or take a few poems --- and happy adulthood so far) sounds horribly well-adjusted. The only addiction he's ever had was a brief spiral into the arms of diet Dr Pepper, unless you count MY SO-CALLED LIFE episodes as a drug. He is evangelical in his musical beliefs and deathly afraid that his bio will end up sounding like the final paragraph in an on-line dating ad.
Luckily, David is much happier talking about his book than he is talking about himself. BOY MEETS BOY and THE REALM OF POSSIBILITY started as stories he wrote for his friends for Valentine's Day (something he's done for the past 16 years) and turned themselves into teen novels. When not writing during spare hours on weekends, David is a senior editor at Scholastic, and the founding editor of the PUSH imprint, which is devoted to finding new voices and new authors in teen literature. With BOY MEETS BOY, he basically set out to write the book that he dreamed of getting as an editor --- a book about gay teens that doesn't conform to the old norms about gay teens in literature (i.e. it has to be about a gay uncle, or a teen who gets beaten up for being gay, or about outcasts who come out and find they're still outcasts, albeit outcasts with their outcastedness in common.) He's often asked if the book is a work of fantasy or a work of reality, and the answer is right down the middle --- it's about where we're going, and where we should be.
Not sure which books to read? Let our TBF authors tell you which ones they recommend! Visit our Resources page, then scroll down to "TBF One Book Recommendations". You will also find a more complete list of books by each author under TBF Book List.
You Know Me Well
LGBTQ, 9781250098641
Recommended for teens

Mark and Kate have sat next to each other for an entire year, but have never spoken. For whatever reason, their paths outside of class have never crossed. That is, until Kate spots Mark miles away from home, out in the city for a wild, unexpected night. Kate is lost, having just run away from a chance to finally meet the girl she has been in love with from afar. Mark, meanwhile, is in love with his best friend Ryan, who may or may not feel the same way. When Kate and Mark meet up, little do they know how important they will become to each other—and how, in a very short time, they will know each other better than any of the people who are supposed to know them more.

Hold Me Closer: The Tiny Cooper Story
LGBTQ, 9780147516107
Recommended for teens

Jazz hands at the ready! Tiny Cooper ("the world's largest person who is also really, really gay") stole readers' hearts when he was introduced to the world in the New York Times bestselling book Will Grayson, Will Grayson, co-authored by John Green and David Levithan. Now Tiny finally gets to tell his story—from his fabulous birth and childhood to his quest for true love and his infamous parade of ex-boyfriends—the way he always intended: as a musical! Filled with honesty, humor, and "big, lively, belty" musical numbers, the novel is told through the full script of the musical first introduced in Will Grayson, Will Grayson.

Two Boys Kissing
LGBTQ, 9780307931917
Recommended for teens

David Levithan tells the based-on-true-events story of Harry and Craig, two 17-year-olds who are about to take part in a 32-hour marathon of kissing to set a new Guinness World Record—all of which is narrated by a Greek Chorus of the generation of gay men lost to AIDS. While the two increasingly dehydrated and sleep-deprived boys are locking lips, they become a focal point in the lives of other teen boys dealing with languishing long-term relationships, coming out, navigating gender identity, and falling deeper into the digital rabbit hole of gay hookup sites—all while the kissing former couple tries to figure out their own feelings for each other.

Every Day: Every Day Series (Book 1)
Realistic Fiction, 9780307931894
Recommended for teens

It's all fine until the morning that A wakes up in the body of Justin and meets Justin's girlfriend, Rhiannon. From that moment, the rules by which A has been living no longer apply. Because finally A has found someone he wants to be with—day in, day out, day after day.

Love Is the Higher Law
Realistic Fiction, 9780375834684
Recommended for teens

The lives of three teens—Claire, Jasper, and Peter—are altered forever on September 11, 2001. Claire, a high school junior, has to get to her younger brother in his classroom. Jasper, a college sophomore from Brooklyn, wakes to his parents' frantic calls from Korea, wondering if he's okay. Peter, a classmate of Claire's, has to make his way back to school as everything happens around him. Here are three teens whose intertwining lives are reshaped by this catastrophic event. As each gets to know the other, their moments become wound around each other's in a way that leads to new understandings, new friendships, and new levels of awareness for the world around them and the people close by.
Interviews
When we asked our authors what they were or might have been voted in HS, David answered I wasn't voted anything...but I was in charge of counting everyone else's votes..
Other Fun Facts
Despite writing two Christmas books and being a part of a Christmas-heavy anthology, I am in fact Jewish.
When proofreading Hold Me Closer: The Tiny Cooper Story, I sand all the songs in t aloud. By myself.
I'm not a singer.
But I did get to be the opening act for one of my favorite singers, Dar Williams. That was cool.
I'm gay. And that's pretty fun.