Bill Konigsberg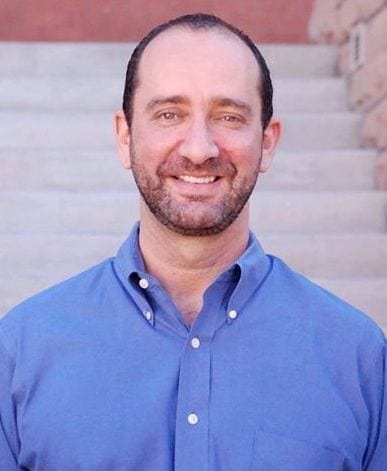 Bill is no longer able to make it to this year's TBF. Check out the other authors coming this weekend!
Bill lives in just outside of Phoenix with his longtime partner, Chuck. They have two Australian Labradoodles who complete them.
Not sure which books to read? Let our TBF authors tell you which ones they recommend! Visit our Resources page, then scroll down to "TBF One Book Recommendations". You will also find a more complete list of books by each author under TBF Book List.
Destination Unknown
LGBTQ, 9781338618051
Recommended for teens
Recommended to read before TBF

The first thing I noticed about C.J. Gorman was his plexiglass bra. So begins Destination Unknown. It's 1987 in New York City, and Micah is at a dance club, trying to pretend he's more out and outgoing than he really is. C.J. isn't just out--he's completely out there, and Micah can't help but be both attracted to and afraid of someone who travels so loudly and proudly through the night. A connection occurs. Is it friendship? Romance? Is C.J. the one with all the answers... or does Micah bring more to the relationship that it first seems? As their lives become more and more entangled in the AIDS epidemic that's laying waste to their community, and the AIDS activism that will ultimately bring a strong voice to their demands, whatever Micah and C.J. have between them will be tested, strained, pushed, and pulled--but it will also be a lifeline in a time of death, a bond that will determine the course of their futures.

The Bridge
LGBTQ, 9781338325034
Recommended for teens

Aaron and Tillie don't know each other, but they are both feeling suicidal, and arrive at the George Washington Bridge at the same time, intending to jump. Aaron is a gay misfit struggling with depression and loneliness. Tillie isn't sure what her problem is -- only that she will never be good enough. On the bridge, there are four things that could happen: Aaron jumps and Tillie doesn't. Tillie jumps and Aaron doesn't. They both jump. Neither of them jumps.

The Music of What Happens
LGBTQ, 9781338215502
Recommended for teens

Max: Chill. Sports. Video games. Gay and not a big deal, not to him, not to his mom, not to his buddies. And a secret: An encounter with an older kid that makes it hard to breathe, one that he doesn't want to think about, ever. Jordan: The opposite of chill. Poetry. His "wives" and the Chandler Mall. Never been kissed and searching for Mr. Right, who probably won't like him anyway. And a secret: A spiraling out of control mother, and the knowledge that he's the only one who can keep the family from falling apart. Throw in a rickety, 1980s-era food truck called Coq Au Vinny. Add in prickly pears, cloud eggs, and a murky idea of what's considered locally sourced and organic. Place it all in Mesa, Arizona, in June, where the temp regularly hits 114. And top it off with a touch of undeniable chemistry between utter opposites. Over the course of one summer, two boys will have to face their biggest fears and decide what they're willing to risk -- to get the thing they want the most.
Helpful Links
Interviews
Videos
When we asked our authors what they were or might have been voted in HS, Bill answered Most outspoken.
Other Fun Facts
In high school, I was part of a musical duo with Rhonda Ross, Diana Ross' daughter. We were called Shade of Gray. She was good. I was not good.
I am ovaphobic. I have a fear of eggs.
I cannot draw beyond simple stick figures.
Charleston Chew is my all-time favorite candy.
I grew up thinking that dumplings were little animals.