A. S. King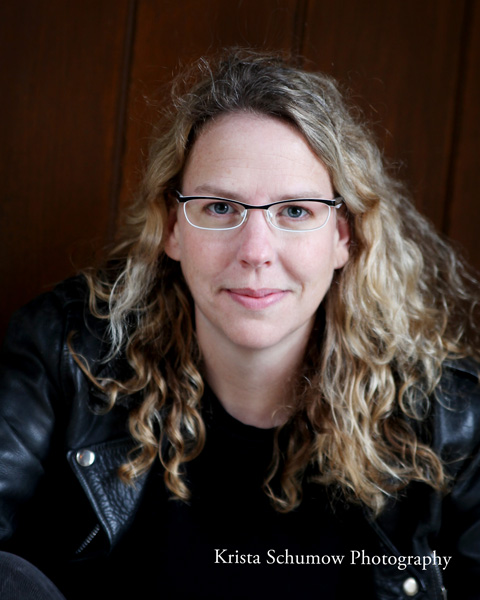 A.S. King is best known for her award-winning young adult novels, though she writes novel-length and short fiction for adults as well. After more than a decade in Ireland dividing herself between self-sufficiency, restoring her farm, teaching adult literacy, and writing novels, she returned to the US in 2004.
Not sure which books to read? Let our TBF authors tell you which ones they recommend! Visit our Resources page, then scroll down to "TBF One Book Recommendations". You will also find a more complete list of books by each author under TBF Book List.
Switch
Science Fiction, 9780525555513
Recommended for teens
Recommended to read before TBF

Tru Beck is a teenage girl from Pennsylvania who lives in a world that has become trapped in a fold in time and space, where "real" time has stopped but humanity continues to mark artificial time based on a website called N3WCLOCK.com. Tru lives in a house that has a switch at its center. No one knows what the switch controls, but her father continually builds larger and larger boxes around the switch (Tru lives in Box #7). Tru leaves the box through a Tru-shaped hole to go to school, where she pays no attention to the new "Solution Time" curriculum. In fact, the only interesting thing that's ever happened to Tru at school is when she discovers (on her first try) that she can throw a javelin farther than any human has ever thrown anything before in human history.

Me and Marvin Gardens
Realistic Fiction, 9780545870740
Recommended for teens

Obe Devlin has problems. His family's farmland has been taken over by developers. His best friend Tommy abandoned him for the development kids. And he keeps getting nosebleeds, because of that thing he doesn't like to talk about. So Obe hangs out at the creek by his house, in the last wild patch left, picking up litter and looking for animal tracks. One day, he sees a creature that looks kind of like a large dog, or maybe a small boar. And as he watches it, he realizes it eats plastic. Only plastic. Water bottles, shopping bags... No one has ever seen a creature like this before, because there's never been a creature like this before. The animal--Marvin Gardens--soon becomes Obe's best friend and biggest secret. But to keep him safe from the developers and Tommy and his friends, Obe must make a decision that might change everything.

Still Life With Tornado
Realistic Fiction, 9781101994887
Recommended for teens

Actually Sarah is several human beings. At once. And only one of them is sixteen. Her parents insist she's a gifted artist with a bright future, but now she can't draw a thing, not even her own hand. Meanwhile, there's a ten-year-old Sarah with a filthy mouth, a bad sunburn, and a clear memory of the family vacation in Mexico that ruined everything. She's a ray of sunshine compared to twenty-three-year-old Sarah, who has snazzy highlights and a bad attitude. And then there's forty-year-old Sarah (makes good queso dip, doesn't wear a bra, really wants sixteen-year-old Sarah to tell the truth about her art teacher). They're all wandering Philadelphia—along with a homeless artist allegedly named Earl—and they're all worried about Sarah's future. But Sarah's future isn't the problem. The present is where she might be having an existential crisis. Or maybe all those other Sarahs are trying to wake her up before she's lost forever in the tornado of violence and denial that is her parents' marriage.

I Crawl Through It
9780316334082
Recommended for teens

Four accomplished teenagers are on the verge of explosion. The anxieties they face at every turn have nearly pushed them to the point of surrender: senseless high-stakes testing, the lingering damage of trauma, the buried grief and guilt of tragic loss. They are desperate to copebut no one is listening. So they will lie. They will split in two. They will turn inside out. They will build an invisible helicopter to fly themselves far away from the pressure&but nothing releases the pressure. Because, as they discover, the only way to truly escape their world is to face it.

Glory O'Brien's History of the Future
Realistic Fiction, 9780316222730
Recommended for teens

Graduating from high school is a time of limitless possibilities--but not for Glory, who has no plan for what's next. Her mother committed suicide when Glory was only four years old, and she's never stopped wondering if she will eventually go the same way...until a transformative night when she begins to experience an astonishing new power to see a person's infinite past and future. From ancient ancestors to many generations forward, Glory is bombarded with visions--and what she sees ahead of her is terrifying: A tyrannical new leader raises an army. Women's rights disappear. A violent second civil war breaks out. And young girls vanish daily, sold off or interned in camps. Glory makes it her mission to record everything she sees, hoping her notes will somehow make a difference. She may not see a future for herself, but she'll do anything to make sure this one doesn't come to pass.

Reality Boy
Realistic Fiction, 9780316222716
Recommended for teens

Gerald Faust started feeling angry even before his mother invited a reality TV crew into his five-year-old life. Twelve years later, he's still haunted by his rage-filled youth--which the entire world got to watch from every imaginable angle--and his anger issues have resulted in violent outbursts, zero friends, and clueless adults dumping him in the special education room at school. No one cares that Gerald has tried to learn to control himself; they're all just waiting for him to snap. And he's starting to feel dangerously close to doing just that...until he chooses to create possibilities for himself that he never knew he deserved.

Ask the Passengers
LGBTQ, 9780316194679
Recommended for teens

Astrid Jones desperately wants to confide in someone, but her mother's pushiness and her father's lack of interest tell her they're the last people she can trust. Instead, Astrid spends hours lying on the backyard picnic table watching airplanes fly overhead. She doesn't know the passengers inside, but they're the only people who won't judge her when she asks them her most personal questions...like what it means that she's falling in love with a girl. As her secret relationship becomes more intense and her friends demand answers, Astrid has nowhere left to turn. She can't share the truth with anyone except the people at thirty thousand feet, and they don't even know she's there. But little does Astrid know just how much even the tiniest connection will affect these strangers' lives--and her own--for the better.

Everybody Sees the Ants
Realistic Fiction
Recommended for teens

Lucky Linderman didn't ask for his life. He didn't ask his grandfather not to come home from the Vietnam War. He didn't ask for a father who never got over it. He didn't ask for a mother who keeps pretending their dysfunctional family is fine. And he didn't ask to be the target of Nader McMillan's relentless bullying, which has finally gone too far. But Lucky has a secret--one that helps him wade through the daily mundane torture of his life. In his dreams, Lucky escapes to the war-ridden jungles of Laos--the prison his grandfather couldn't escape--where Lucky can be a real man, an adventurer, and a hero. It's dangerous and wild, and it's a place where his life just might be worth living. But how long can Lucky keep hiding in his dreams before reality forces its way inside?

Please Ignore Vera Dietz
Realistic Fiction
Recommended for teens

Vera's spent her whole life secretly in love with her best friend, Charlie Kahn. And over the years she's kept a lot of his secrets. Even after he betrayed her. Even after he ruined everything. So when Charlie dies in dark circumstances, Vera knows a lot more than anyone -the kids at school, his family, even the police. But will she emerge to clear his name? Does she even want to? Edgy and gripping, Please Ignore Vera Dietz is an unforgettable novel: smart, funny, dramatic, and always surprising.

Dust of 100 Dogs
Realistic Fiction
Recommended for teens

In the late seventeenth century, famed teenage pirate Emer Morrisey was on the cusp of escaping the pirate life with her one true love and unfathomable riches when she was slain and cursed with "the dust of one hundred dogs," dooming her to one hundred lives as a dog before returning to a human body-with her memories intact. Now she's a contemporary American teenager and all she needs is a shovel and a ride to Jamaica.
Helpful Links
Interviews
Videos
Websites
When we asked our authors what they were or might have been voted in HS, A. S. answered Most Likely to Be and Intrepid Explorer of the World.
Other Fun Facts
I love corn on the cob.
I collect statues of Buddha.
M*A*S*H is still my favorite TV show.
I can juggle.
I can also read minds.