A.G. Howard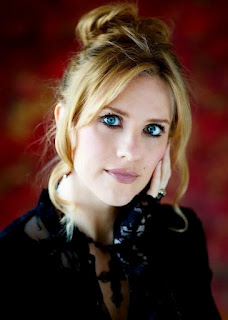 International and NYT best-selling author, Anita Grace Howard, lives in the Texas panhandle. She is most at home weaving the melancholy and macabre into settings and scenes, twisting the expected into the unexpected. She's inspired by all things flawed, utilizing the complex loveliness of human conditions and raw emotions to give her characters life, then turning their world upside down so the reader's blood will race.

Married and mother of two teens (as well as surrogate mom to two Guinea pigs and one Labrador retriever), Anita divides her days between spending time with her family and plodding along or plotting on her next book.

When she's not writing, Anita enjoys rollerblading, biking, snow skiing, gardening, and family vacations that at any given time might include an impromptu side trip to an 18th century graveyard or a condemned schoolhouse for photo ops.
Not sure which books to read? Let our TBF authors tell you which ones they recommend! Visit our Resources page, then scroll down to "TBF One Book Recommendations". You will also find a more complete list of books by each author under TBF Book List.
RoseBlood
Fantasy, 9781419719097
Recommended for teens

Shortly after arriving at RoseBlood conservatory, Rune starts to believe something otherworldly is indeed afoot. The mystery boy she's seen frequenting the graveyard beside the opera house doesn't have any classes at the school, and vanishes almost as quickly as he appears. When Rune begins to develop a secret friendship with the elusive Thorn, who dresses in clothing straight out of the 19th century, she realizes that in his presence she feels cured. Thorn may be falling for Rune, but the phantom haunting RoseBlood wants her for a very specific and dangerous purpose. As their love continues to grow, Thorn is faced with an impossible choice: lead Rune to her destruction, or save her and face the wrath of the phantom, the only father he's ever known.

Splintered Series: Splintered
Fantasy, 9781419709708
Recommended for teens

This stunning debut captures the grotesque madness of a mystical under-land, as well as a girl's pangs of first love and independence. Alyssa Gardner hears the whispers of bugs and flowers—precisely the affliction that landed her mother in a mental hospital years before. This family curse stretches back to her ancestor Alice Liddell, the real-life inspiration for Lewis Carroll's Alice's Adventures in Wonderland. Alyssa might be crazy, but she manages to keep it together. For now. When her mother's mental health takes a turn for the worse, Alyssa learns that what she thought was fiction is based in terrifying reality. The real Wonderland is a place far darker and more twisted than Lewis Carroll ever let on. There, Alyssa must pass a series of tests, including draining an ocean of Alice's tears, waking the slumbering tea party, and subduing a vicious bandersnatch, to fix Alice's mistakes and save her family. She must also decide whom to trust: Jeb, her gorgeous best friend and secret crush, or the sexy but suspicious Morpheus, her guide through Wonderland, who may have dark motives of his own.
When we asked our authors what they were or might have been voted in HS, A.G. answered Most Likely to Become a Fashion Designer.
Other Fun Facts
In my childhood, I had a vivid imagination. One night, after watching an episode of The Twilight Zone where a doll comes to life and wreaks havoc on a middle-class family, I had a staring contest with one of my dolls while lying in bed. Her lips twitched on a sneer (most likely an anomaly caused from the shadows and my eyes clouding-up due to lack of moisture). After much screaming, crying, and trembling, I gathered my wits and crammed her and every other miniature human-esque figurine into my closet beneath old shoes and dusty comic books so I could go to sleep.
In high school, I drove a sun-faded, rusty 1975 Datsun B210. During some "routine maintenance," my dad accidentally spliced the dome light wires with the left turn signal which caused the interior light to blink each time I flipped the turn signal on. Even on the darkest nights my classmates could recognize me driving around the neighborhood in my disco-dome-light car.
When I first started writing novels, I couldn't listen to music during my writing stints unless the songs were instrumental. Any lyrics would distract me. Now, I can't write unless I have music in the background, and I prefer songs with lyrics. I have playlists for every book I've published on my website, as proof.
I used to bake and decorate cakes and cookies for profit. What started off as fancy birthday cakes for my kids' parties ended up becoming a side business: "Anita's Creative Confections". I even entered a "bird house" cake in the tri-state fair once and won first place and best of show ribbons.
I'm a huge Lord of the Rings geek. So much so that the first time I ever took a trip outside of the U.S. in my life was last year to visit New Zealand, just so I could go on a LotR tour with my husband and see Hobbiton and the Green Dragon Inn in person.