Amber Denagel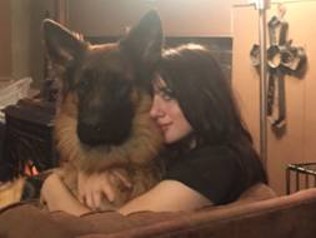 Amber loves the sights and sounds of the forest, the companion and total loyalty of her many rescue cats and 4 German Shepherds. One of her cats, she has analyzed to be a complete psychopath, while another is an angel sent from the heavens. The soulful eyes of each dog keeps Amber humble, yet reminds her to always be on guard. She could create a universe based on one piece of mystical jewelry, loves antique shops, and hopes that one day soon she can experience a slow trip by car across the beautiful America.
Not sure which books to read? Let our TBF authors tell you which ones they recommend! Visit our Resources page, then scroll down to "TBF One Book Recommendations". You will also find a more complete list of books by each author under TBF Book List.
The Darkness Of My Love
Science Fiction, Supernatural, 9781537307213
Recommended for teens

The Darkness Of My Love is a supernatural science fiction novel. By the time the first book was finished, I had decided to make it a chronicle of the main character's life, so it's kind of a mix of every genre a book can have. It first takes place in an airport in a fictional town placed in New York State, a few months after the main character comes across a mysterious shadow figure during a walk in the forests surrounding the small town. The story is mainly from the point of view of 16-year-old, Onyx Bellum, who's on her way down to Savannah, Georgia for a school field trip with her two friends, Topaz and Aurora. While in the airport, she notices a stranger who she later sits next to on the plane and is introduced as Ash. He's also accompanied by his two friends, Tack and Echo, who are introduced a little later in the story. As the story continues, Onyx begins to suspect that there's more to Ash than meets the eye, all the while slowly developing feelings for him. After a few days of being in Savannah, an unnerving event takes place, causing Ash's secret to be revealed to everyone in the field trip. This event deeply disturbs Onyx, however, she later realizes that, despite recently finding out about Ash's inhuman nature, her feelings towards him still continue to grow. They do not see each other again for the rest of the trip until the night before Onyx has to leave, in which case they have a bonding experience. On the flight back, the plane ends up crash landing in the middle of a forest, forcing the class to suddenly have to trust Ash and his inhuman friends to not only lead them back to humanity, but also protect them from bigger threats. The book leaves off at a cliffhanger where a being from the past is reintroduced into Ash's life again, causing great conflict for Ash. There are also some chapters from Ash's point of view, which makes me consider him the main male character and Onyx the main female character.
No adult has reviewed/edited my book before publishing (yet I received three 5-star reviews on Amazon and my mother's friends all say that my writing is so mature).
My four dogs are my writing companions that help me keep my inspiration and provide me with side entertainment while I work.
I hope to have at least five books in this series before ending it.
My cats taught me how to be graceful, cunning and also allowed me to observe their personality for my character, Echo.
The computer I work on is a crappy old MacBook that loves to glitch around, takes forever to start up, and has a broken keyboard which forces me to work on a wireless keyboard that loves to erase my recent sentences when I press a spot it doesn't like, yet I still use that computer to write on despite having a brand new, amazing Lenovo ThinkPad 13 Chromebook.