Bruce Coville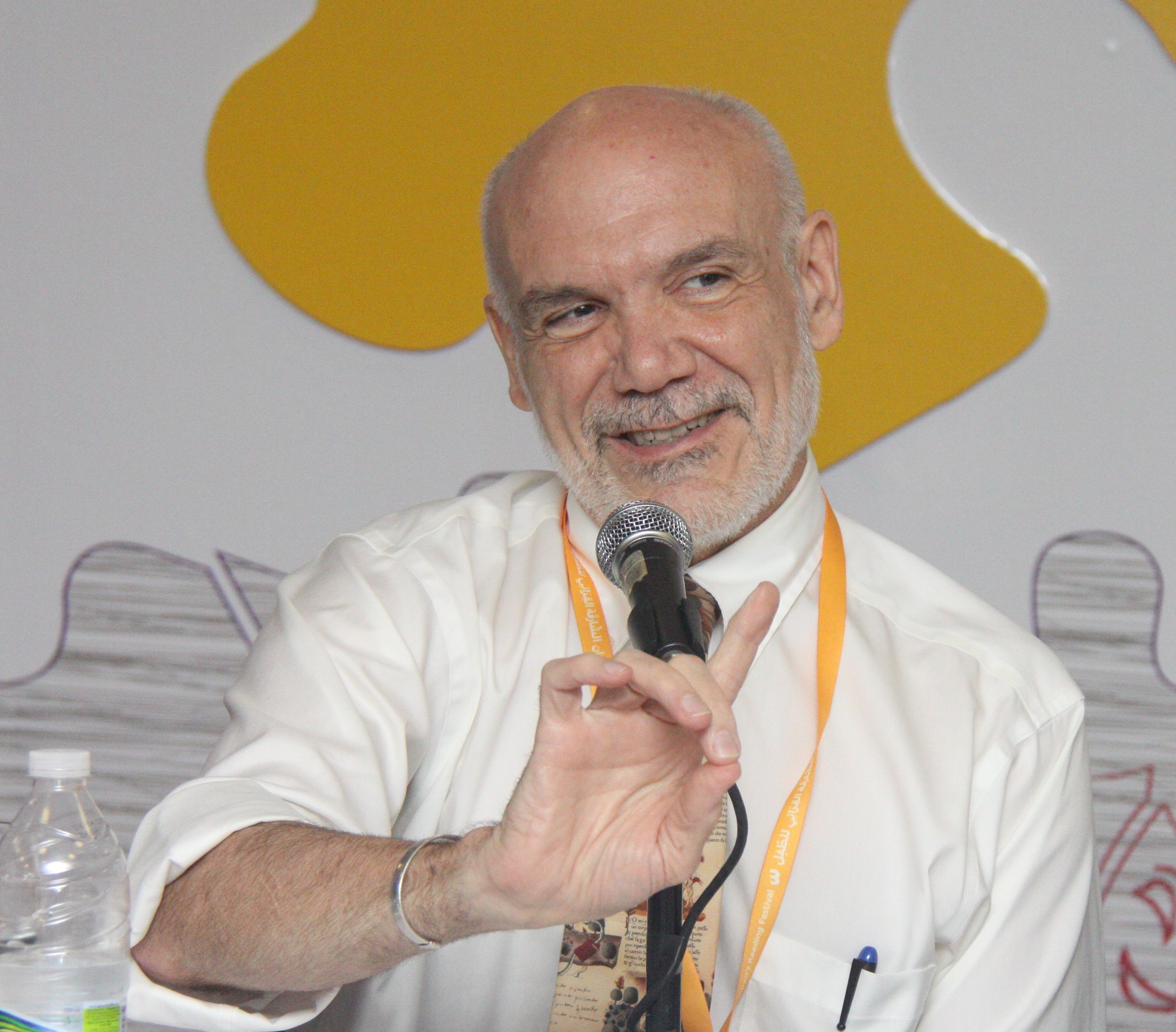 From the Scholastic Website:
I was born in Syracuse, New York, on May 16, 1950. Except for one year that I spent at Duke University in North Carolina, I lived in and around central New York until September of 1990, when I moved to New York City. I lived there for two years. Now I am back in Syracuse.
I grew up around the corner from my grandparents' dairy farm, which was three miles outside of a small town called Phoenix. As a child I loved Mary Poppins and Dr. Doolittle, and I can remember getting up ahead of everyone else in the family so that I could huddle in a chair and read The Voyages of Dr. Doolittle. I also read lots of things that people consider junk (Nancy Drew, the Hardy Boys, Tom Swift, and zillions of comic books). My only real regret is the time I spent watching television, when I could have been reading instead. (After all, a mind is a terrible thing to waste!)
The first time I can remember thinking that I would like to be a writer came in sixth grade, when our teacher — Mrs. Crandall — gave us an extended period of time to write a long story. I loved doing it. I started working seriously at becoming a writer when I was seventeen.
Like most people, I was not able to start selling my stories right away. So I had many other jobs along the way to becoming a writer, including toy maker, gravedigger, cookware salesman, and assembly line worker. Eventually I became an elementary teacher, and worked with second and fourth graders.
When I was nineteen I married Katherine Dietz, who lived right around the corner from me. She was (and is) a wonderful artist, and we began trying to create books together. However it was not until 1977 that we finally sold our first book, which was called The Foolish Giant. We did two other books together — Sarah's Unicorn and The Monster's Ring.
Kathy and I have three children; a son, Orion, born in 1970; a daughter, Cara, born in 1975; and another son, Adam, born in 1981.
I feel like a very lucky person. From the time I was young, I had a dream of becoming a writer. Now that dream has come true, and I am able to make my living doing something I really love.
Not sure which books to read? Let our TBF authors tell you which ones they recommend! Visit our Resources page, then scroll down to "TBF One Book Recommendations". You will also find a more complete list of books by each author under TBF Book List.
The Thief of Worlds
Fantasy, 9780385392525
Recommended for teens
Recommended to read before TBF

For Hurricane, this global disaster strikes at his core. He got his name because he was born during a hurricane, and he has always felt a strangely intense connection to the wind. And now his mother is one of the sick people in the hospital. But what can he do? He's just a kid. When all this turns out to be TRUE, Hurricane embarks on the adventure of his life: a journey to different worlds, where he will make friends unlike any people he has ever known. He will discover courage, strength, humor, and an ability to bring people together.

Aliens Ate My Homework
Fantasy, 9781416938835
Recommended for teens
Recommended to read before TBF

Rod is surprised when a miniature spaceship lands in his school science project and reveals five tiny aliens, who ask his help in apprehending an interstellar criminal. (Film version coming to Netflix March 6!)

Cursed: Enchanted File Series (Book 1)
Fairy Tales, Fantasy, Humor, Middle School, 9780385392501
Recommended for teens

Angus Cairns is a brownie, a magical creature with a fastidious nature. Alex Carhart is the messiest eleven-year-old in the United States of America. Together, this unlikely pair embarks on an unforgettable adventure.

Hatched: Enchanted File Series (Book 2)
Fairy Tales, Fantasy, Humor, Middle School, 9780385392587
Recommended for teens

Gerald the griffin isn't brave enough or fierce enough to fit in with the other griffins of the Enchanted Realm. When he runs away to the human world, he finds himself up to his beak in trouble, friendship, and fun!

Trolled: Enchanted File Series (Book 3)
Fairy Tales, Fantasy, Humor, Middle School, 9780385392594
Recommended for teens

Ned Thump is a seven-foot troll who is made fun of for his love of words so he escapes from the Enchanted Realm to the human world and secretly becomes a night watchman at Grand Central Terminal.

Armageddon Summer
Realistic Fiction, 9780152022686
Recommended for teens
Recommended to read before TBF

Fourteen-year-old Marina and sixteen-year-old Jed accompany their parents' religious cult, the Believers, to await the end of the world atop a remote mountain, where they try to decide what they themselves believe.
Book Talks
Helpful Links
Interviews
Videos
When we asked our authors what they were or might have been voted in HS, Bruce answered most likely to succeed.
Other Fun Facts
My favorite film is "Singin' in the Rain"
I used to be a gravedigger
I eat peanut butter every day
I am a total musical theater fan boy
I once managed to hit myself in the head with a sledgehammer.