Sona Charaipotra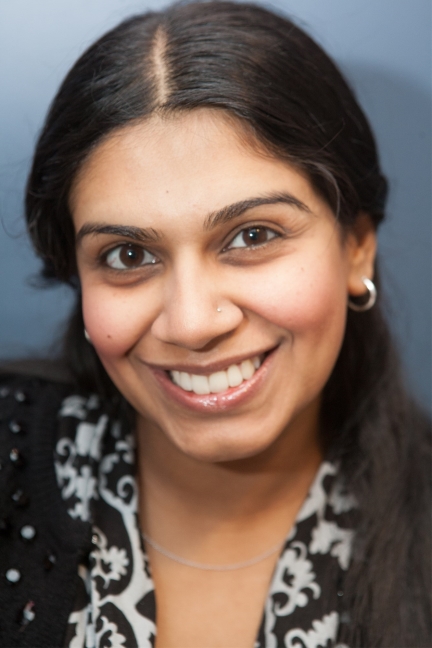 Sona is no longer able to make it to this year's TBF. Check out the other authors coming this weekend!
Sona Charaipotra is author of the doc dramedy Symptoms of a Heartbreak and co-author of the YA dance duology Tiny Pretty Things, a 2020 Netflix original series. A former People reporter, she's writes for publications like the NYTimes and Cosmopolitan, and co-founded CAKE Literary, a boutique book packager focused on delicious, diverse reads. She has a masters in screenwriting from NYU and MFA in fiction from New School. Next up: How Maya Got Fierce and The Rumor Game.
Not sure which books to read? Let our TBF authors tell you which ones they recommend! Visit our Resources page, then scroll down to "TBF One Book Recommendations". You will also find a more complete list of books by each author under TBF Book List.
How Maya Got Fierce
Realistic Fiction, 9781250762139
Recommended for teens
Recommended to read before TBF

Ever since she was little, farmer's daughter Maya Gera has known what her future holds. The heiress to a mini garlic empire in the heart of Gilroy, California, she's meant to be a good Indian girl -- which means agriculture school, an MBA, and settling down with a suitable Sikh boy. So spending her 17th summer at cow camp in New Jersey is a really big deal. Farm kids nationwide convene to learn to milk cows, shuck corn, and, uh, form 'strategic alliances.' But when Maya gets kicked out of camp after an expensive accident -- yes, it involves a boy -- she scrambles to save face and keep her parents from finding out. Hard to do when she owes the school thousands of dollars. Desperate to earn enough to pay off her mistake, Maya interviews for an internship at Fierce, a fashion magazine she's been obsessed with forever. When she lands a gig as assistant features editor, it's a New York City dream come true. Especially because she rocks at it. But it might soon become her worst nightmare -- because the Fierce folks think she's 26. And just wait until her parents find out.

The Rumor Game
Mystery, 9781368014144
Recommended for teens

All it takes is one spark to start a blaze. At Foxham Prep, a posh private school for the children of DC's elite, a single rumor has the power to ruin a life. Nobody knows that better than Bryn. She used to have it all—the perfect boyfriend, a bright future in politics, and even popularity, thanks to her best friend, cheer captain Cora. Then one mistake sparked a scandal that burned it all to the ground. Now it's the start of a new school year and the spotlight has shifted: It's geeky Georgie, newly hot after a summer makeover, whose name is on everyone's lips. When a rumor ignites, Georgie rockets up the school's social hierarchy, pitting her and Cora against each other. It grants her Foxham stardom . . . but it also makes her a target. As the rumors grow and morph, blazing like wildfire through the school's social media, all three girls' lives begin to unravel. But one person close to the drama has the power to stop the gossip in its tracks. The question is—do they even want to?

Tiny Pretty Things: Tiny Pretty Things Series (Book 1)
Mystery, Realistic Fiction, 9780062342393
Recommended for teens

Black Swan meets Pretty Little Liars in this soapy, drama-packed novel featuring diverse characters who will do anything to be the prima at their elite ballet school. From the New York Times-bestselling author of The Belles, Dhonielle Clayton, and the author of the highly anticipated Symptoms of a Heartbreak, Sona Charaipotra. Gigi, Bette, and June, three top students at an exclusive Manhattan ballet school, have seen their fair share of drama. Free-spirited new girl Gigi just wants to dance—but the very act might kill her. Privileged New Yorker Bette's desire to escape the shadow of her ballet-star sister brings out a dangerous edge in her. And perfectionist June needs to land a lead role this year or her controlling mother will put an end to her dancing dreams forever. When every dancer is both friend and foe, the girls will sacrifice, manipulate, and backstab to be the best of the best.

Shiny Broken Pieces: Tiny Pretty Things Series (Book 2)
Mystery, Realistic Fiction, 9780062342423
Recommended for teens

June, Bette, and Gigi have given their all to dance at Manhattan's most elite ballet school. Now they are competing one final time for a spot at the prestigious American Ballet Company. With the stakes higher than ever, these girls have everything to lose… and no one is playing nice. June is starting to finally see herself as a prima ballerina. However, getting what she wants might cost her everything—including the only boy she's ever loved. Legacy dancer Bette is determined to clear her name after she was suspended and accused of hurting her rival, Gigi. Even if she returns, though, will she ever regain the spotlight she craves? And Gigi is not going to let Bette—or the other dancers who bullied her—go unpunished. But as revenge consumes her, Gigi may be the one who pays the price. After years of grueling auditions, torn ribbons, and broken hearts, it all comes down to this last dance. Who will make the cut? And who will lose her dream forever?
When we asked our authors what they were or might have been voted in HS, Sona answered flightiest.
Other Fun Facts
I make really kickass adraki chai.
I love old Bollywood movies.
My favorite color is peacock blue and I have a peacock blue velvet couch. (With a chaise!) Also: Peacocks are known to be very dumb animals.
How Maya Got Fierce is based on my own experiences in the magazine world, where I started as an intern at 19 -- and where I still work today.
In the book, Maya spends a lot of her time eating -- and so do most of my other protagonists. What I've realized is that I always write hungry girls, in all the ways. They're always chasing something. But especially with their kati roll and samosa cravings.