Michael Buckley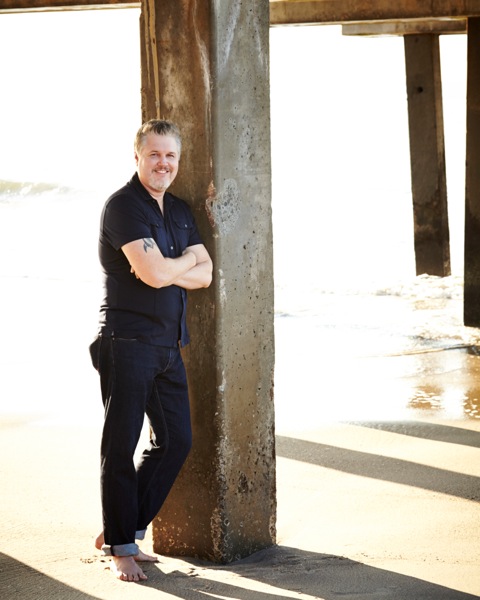 Michael Buckley is the multiple NY Times bestselling author of Undertow, The Sisters Grimm, and NERDS series, as well as Kel Gilligan's Daredevil Stuntshow and one half of the creative team behind CN's Robotomy. He lives in Brooklyn with his wife and son. He likes cupcakes.
He grew up in Akron, Ohio and attended Ohio University, graduated in 1996 with honors. Shortly after he moved to NYC, interning for CBS's The Late Show with David Letterman, and worked as a stand-up comic and TV and ad copywriter. The Sisters Grimm was the first of his nineteen books.
Not sure which books to read? Let our TBF authors tell you which ones they recommend! Visit our Resources page, then scroll down to "TBF One Book Recommendations". You will also find a more complete list of books by each author under TBF Book List.
Heart of the Storm: Undertow Series (Book 3) Released 2/17
Dystopia, 9780544813199
Recommended for teens

After seven months as a captive of Minerva, the insane Alpha queen, Lyric Walker has escaped to the surface. Her only goal is to warn the world about the Great Abyss. When she finally arrives back in Coney Island, she discovers a world she never expected, one where humans and Alpha are finally working hand in hand to rebuild the country. But she soon discovers that an old enemy allied with an old friend may kill them all before the monsters get their turn.

Raging Sea: Undertow Series (Book 2)
Dystopia, 9780544938823
Recommended for teens

In the first book of Michael Buckley's Undertow trilogy, the Alpha arrived and the world was never the same. At the start of the second book, most of south Brooklyn is in ruins and the nation is terrified. Nearly everyone that Lyric Walker loves is either missing or presumed dead, including the mesmerizing prince Fathom. It's up to Lyric to unite the Alpha before the second wave of a cataclysmic invasion wipes out mankind for good.

Undertow: Undertow Series (Book 1)
Dystopia, 978054434867
Recommended for teens

Sixteen-year-old Lyric Walker's life is forever changed when she witnesses the arrival of 30,000 Alpha, a five-nation race of ocean-dwelling warriors, on her beach in Coney Island. The world's initial wonder and awe over the Alpha quickly turns ugly and paranoid and violent, and Lyric's small town transforms into a military zone with humans on one side and Alpha on the other. When Lyric is recruited to help the crown prince, a boy named Fathom, assimilate, she begins to fall for him. But their love is a dangerous one, and there are forces on both sides working to keep them apart. Only, what if the Alpha are not actually the enemy? What if they are in fact humanity's only hope of survival? Because the real enemy is coming. And it's more terrifying than anything the world has ever seen.

NERDS: National Espionage, Rescue, and Defense Society: NERDS Series (Book 1)
Humor, 9780810943247
Recommended for teens

Combining all the excitement of international espionage and all the awkwardness of elementary school, NERDS, featuring a group of unpopular students who run a spy network from inside their school, hits the mark. With the help of cutting-edge science, their nerdy qualities are enhanced and transformed into incredible abilities! They battle the Hyena, a former junior beauty pageant contestant turned assassin, and an array of James Bond–style villains, each with an evil plan more diabolical and more ridiculous than the last.

The Fairy-Tale Detectives: The Sisters Grimm Series (Book 1)
Fairy Tales, 9780810959255
Recommended for teens

For Sabrina and Daphne Grimm, life has not been a fairy tale. After the mysterious disappearance of their parents, the sisters are sent to live with their grandmother--a woman they believed was dead! Granny Relda reveals that the girls have two famous ancestors, the Brothers Grimm, whose classic book of fairy tales is actually a collection of case files of magical mischief. Now the girls must take on the family responsibility of being fairy tale detectives.
Videos
Websites
When we asked our authors what they were or might have been voted in HS, Michael answered Most Likely to Have No Idea What is Going On.
Other Fun Facts
I was once run over by a car trying to save someone from being run over by a car.
My family was a Hostess Cupcake test family and had to eat cases of Twinkies and Fruit Pies as part of my dad's job.
I got arrested for protesting George W. Bush's inauguration.
When I was 16 I won a joke writing contest for Mad Magazine.
I used to be the lead singer in a punk rock band.