Robin Benway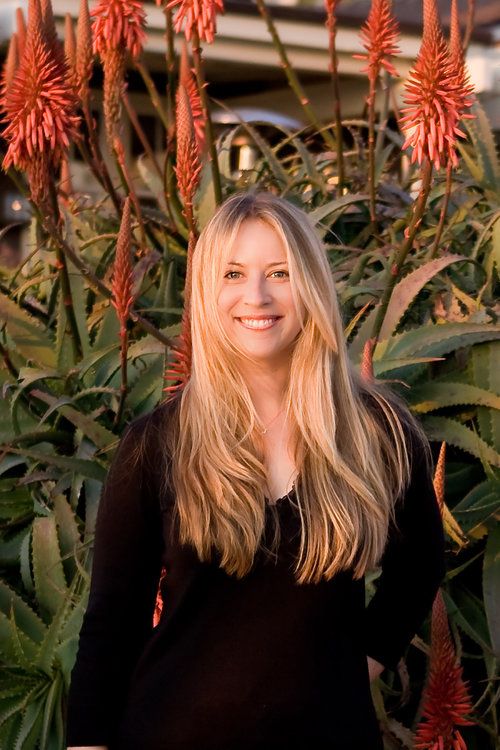 Robin Benway is a National Book Award-winning and New York Times-bestselling author of six novels for young adults, including Audrey, Wait!, the AKA series, and Emmy & Oliver. Her books have received numerous awards and recognition, including a 2008 Blue Ribbon Award from the Bulletin for the Center of Children's Books, 2009's ALA Best Books for Young Adults, and 2014's ALA Popular Paperbacks for Young Adults. In addition, her novels have received starred reviews from Kirkus, Booklist, and Publishers Weekly, and have been published in more than twenty countries. Her newest book, Far From the Tree, won the 2017 National Book Award for Young People's Literature and was published by Harper Teen on October 3, 2017.
Robin grew up in Orange County, California, attended NYU, where she was the 1997 recipient of the Seth Barkas Prize for Creative Writing, and is a graduate of UCLA. She currently lives in Los Angeles, where she spends her time hanging out with her dog, Hudson, making coffee, and procrastinating on writing.
Not sure which books to read? Let our TBF authors tell you which ones they recommend! Visit our Resources page, then scroll down to "TBF One Book Recommendations". You will also find a more complete list of books by each author under TBF Book List.
Emmy & Oliver
Realistic Fiction, 9780062330598
Recommended for teens

Emmy's best friend, Oliver, reappears after being kidnapped by his father ten years ago. Emmy hopes to pick up their relationship right where it left off. Are they destined to be together? Or has fate irreparably driven them apart? Emmy just wants to be in charge of her own life. She wants to stay out late, surf her favorite beach—go anywhere without her parents' relentless worrying. But Emmy's parents can't seem to let her grow up—not since the day Oliver disappeared. Oliver needs a moment to figure out his heart. He'd thought, all these years, that his dad was the good guy. He never knew that it was his father who kidnapped him and kept him on the run. Discovering it, and finding himself returned to his old hometown, all at once, has his heart racing and his thoughts swirling. Emmy and Oliver were going to be best friends forever, or maybe even more, before their futures were ripped apart. In Emmy's soul, despite the space and time between them, their connection has never been severed. But is their story still written in the stars? Or are their hearts like the pieces of two different puzzles—impossible to fit together? Readers who love Sarah Dessen will tear through these pages with hearts in throats as Emmy and Oliver struggle to face the messy, confusing consequences of Oliver's father's crime. Full of romance, coming-of-age emotion, and heartache, these two equally compelling characters create an unforgettable story.

Far from the Tree
Realistic Fiction, 9780062330628
Recommended for teens

Three teenagers, biological siblings separated by adoption, explore the meaning of family in all its forms--how to find it, how to keep it, and how to love it. (National Book Award Winner)
Videos
Websites
When we asked our authors what they were or might have been voted in HS, Robin answered I was most definitely, without a doubt, the Mom Friend.
Other Fun Facts
I have a spoiled Shih Tzu named Hudson.
I once fainted during an outdoor wedding and fell into the pool.
I was born on a full moon.
I'm terrified of heights.
I can't start my day without coffee.
I wouldn't mind being able to fly, so if I were a superhero, that would be my superpower. And since my name is Robin, like the bird, I could just keep my name!
If you can only read one of my books before TBF it should be Far From the Tree. It's my newest and the book I feel the most attached to.