Parking and Campus Maps
Please click here to download a pdf of the Nazareth College campus, including highlights for TBF parking.
To find out when and where authors are presenting, download the FINAL 2019 TBF Grid Schedule (COMING SOON) and Detailed Map here (COMING SOON). They print out on 8 1/2 x 14 paper. The map is color coded to large signsyou will also find on campus in front of each building. We will have copies of these and the official program at TBF, but this is provided so you can start to plan your day.
Getting There By Car
TBF's main entrance is 4245 East Avenue, Rochester, NY 14618.
The Otto A. Shults Community Center is the hub of TBF activity with author breakout sessions being held in nearby campus buildings. Here is a map of the Nazareth Campus that shows all the surrounding parking areas for individual cars. The campus is very "pedestrian friendly" and there are many parking lots to select from which are close to the Shults Center. There is no charge for campus parking.
Getting There By Bus
If you plan to bring a bus of students to TBF, you must complete a TBF Bus Form. Once you submit your bus form, we will send specific directions regarding where the bus must enter campus, drop off students, and park.
It is imperative that you follow the directions we send you rather than directions from Google Maps.
Chaperoning your students is up to you. We suggest making sure your students have the mobile number of an adult in your group in case they need to reach you during TBF. Here are some other ideas.
---
Accessibility
If you have questions concerning access of disability-related accomodations, please contact Dr. Laura C.S. Jones at ljones1@naz.edu.
If you wish to contact by phone please call Lenora Thomas at 585-389-2947 and she will see that your request is forwarded to the appropriate personnel. Please note: all requests for specific accommodations must be made no later than March 30, 2018.
Here is a printable map of the Nazareth Campus that shows all of the designated accessible parking spots on campus.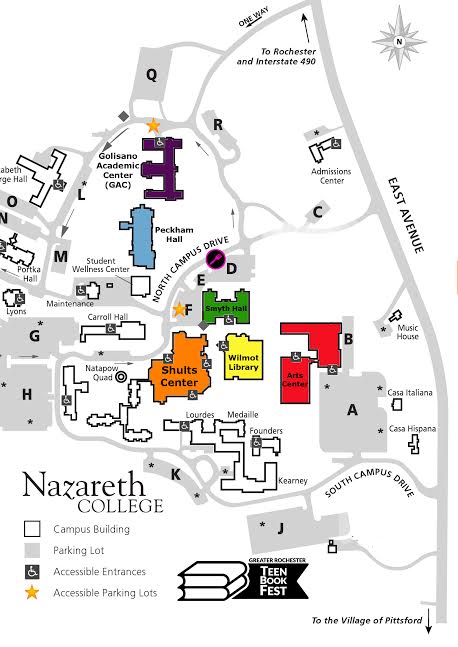 sion