What's a "typical" Teen Book Fest like? We're not so sure there is anything "typical" about TBF. You have to be there to experience it. But we'd like to share a few planning tips with you so you can have the best day ever!
Come prepared for your day: what's the weather going to do? The Festival is held in several buildings across the Nazareth College campus. Most of the walkways are outdoors and not covered, so an umbrella or a waterproof poncho might be good accessories if it is raining.
Are you bringing a busload of students?
Are you packing a lunch or do you need to bring money to buy food?
While there are a variety of food options available at Teen Book Fest, if you have specific food allergies or dietary requirements, you may want to consider bringing some snacks with you.
Coupons for a value meal package (entrée, beverage, chips or fruit) for the cafeteria in the Shults Center at Nazareth can be purchased on the morning of TBF. (These certificates cannot be used at the food trucks at the Festival.) Our food vendors donate a portion of their sales back to TBF so we hope that you will support them.
There will also be a snack station open in Colie's Cafe, located in the lobby of the Wilmot Library. A variety of bottled beverages and coffee will be available there.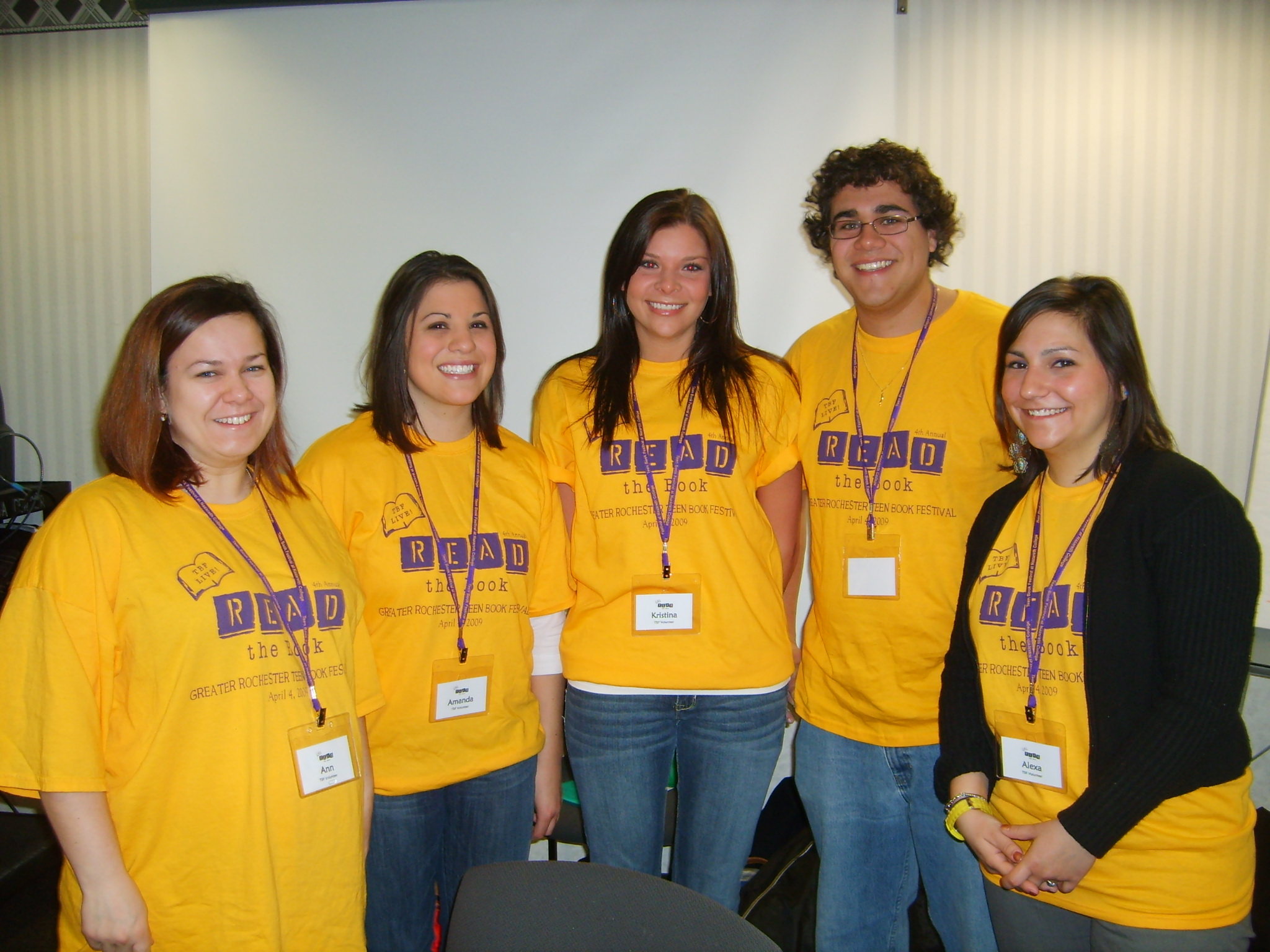 Print out a campus map (NEW MAP FOR 2017 AVAILABLE SOON) and look at the names of the buildings where the author will be presenting.
We have volunteer guides to help you get oriented to the campus and colorful vertical banners to identify the buildings, but looking over the map will help you get to where you want to be on time.
Several days before TBF, check the detailed schedule (NEW DETAILED SCHEDULE FOR 2017 available by May 1, 2017) and think about which authors you will want to hear in the breakout sessions.
Some authors will present individually, while others will be part of a panel presentation. Every author will present three times during the day, so you have three chances to get to hear him or her speak.
You don't register for specific author sessions ahead of time. Seating preference is given to teens at all sessions. If teens are waiting to get into a session and there are adults in seats, the adults will be asked to give up their seats for teens. But have a Plan B: what will you do if the room is standing room only? (It happens!) Head to another room to hear an author you aren't familiar with—you'll be certain to leave with a list of titles you'll want to read next!
Authors will be presenting during all sessions, but the authors alternate between two pre-selected lunch times. During the lunch sessions, there are alternate activities you might enjoy such as creative writing workshops, a teen author panel, a Teen Film Festival showing, or a drawing workshop. Be prepared and negotiate with your friends—which authors do they want to hear? Make a list—you have lots of choices. If you own a book that you want to get autographed, don't forget to bring it with you to take to the autograph session at the end of the day. Bring some spending money to buy books, snacks, and TBF swag.
***We've made some changes to this year's opening events. Thanks for your patience as we work out the details for the morning. Check back soon for more specific details on how you should start your day. What we can say for sure is that you want to arrive as soon as you can! The authors love to see so many teens gathered to greet them as we start the day. The more fans the merrier—the authors have told us the Teen Book Fest in Rochester is like no other literary festival they have ever attended. They really feel like rock stars with the reception the TBF fans give them.***
This is one of the most exciting moments of the day, when you'll get your first glimpse of your favorite authors. Wave, cheer, call out their names, take pictures—it is like a Hollywood film premiere, but better. You'll be up close to the action! The more fans the merrier—the authors have told us the Teen Book Fest in Rochester is like no other literary festival they have ever attended. They really feel like rock stars with the reception the TBF fans give them.
Before the opening session with all our authors, you'll have about an hour to check out the displays and browse the book sale provided by Barnes & Noble in the Shults Center.
Pick out some books to buy—when you purchase your books at TBF, Barnes & Noble donates a portion of the sales back to the Festival.
Did you decide to have lunch in the campus cafeteria? Now's the time to purchase the vouchers.
Browse the TBF merchandise table and our other sponsor and vendor tables.
Get an official TBF T-shirt so you can have many authors sign it for you during the autograph session!
Pick up some swag to help you remember your TBF adventure.
Enter one of the door prize drawings for a chance to win some more great books!
Enjoy the teen entertainment while you wait for the opening panel—there are so many talented teens in our area!
At 9:15, the Teen Book Fest officially begins with all of our TBF authors together in the gym. The gym does fill up quickly, so be sure to find a seat early on. If the gym has reached capacity, more seating is available in both the Forum and the Cabaret in the Shults Center where you can view the opening session as it is streamed live. More cheering, picture taking, and applauding will ensue! You'll find it entertaining for sure!
After the opening session, our authors head to their presentation rooms throughout the Nazareth campus. You'll be following them shortly. We give the authors a head start to their various rooms while we play a game with the audience—you might even win a prize! After the game, consult your schedule and head to your first session. You're off to a good start!
Hungry? Time to check out the food truck offerings or go to the cafeteria. Soda, snacks, and Nazareth College swag are also available at the Nazareth College Bookstore on the lower level of the Shults Center. Then it's back to more sessions with the authors.
Or too excited to eat? If you don't take a break, you could work in another author session. And don't forget about the other workshops offered during this part of the day. Why not stop over to the WXXI Selfie Station? It's in the atrium of the Lorette Wilmot Library, next to the Shults Center. Dress up in some fun costumes and snap a selfie with your TBF friends to share on your social media sites.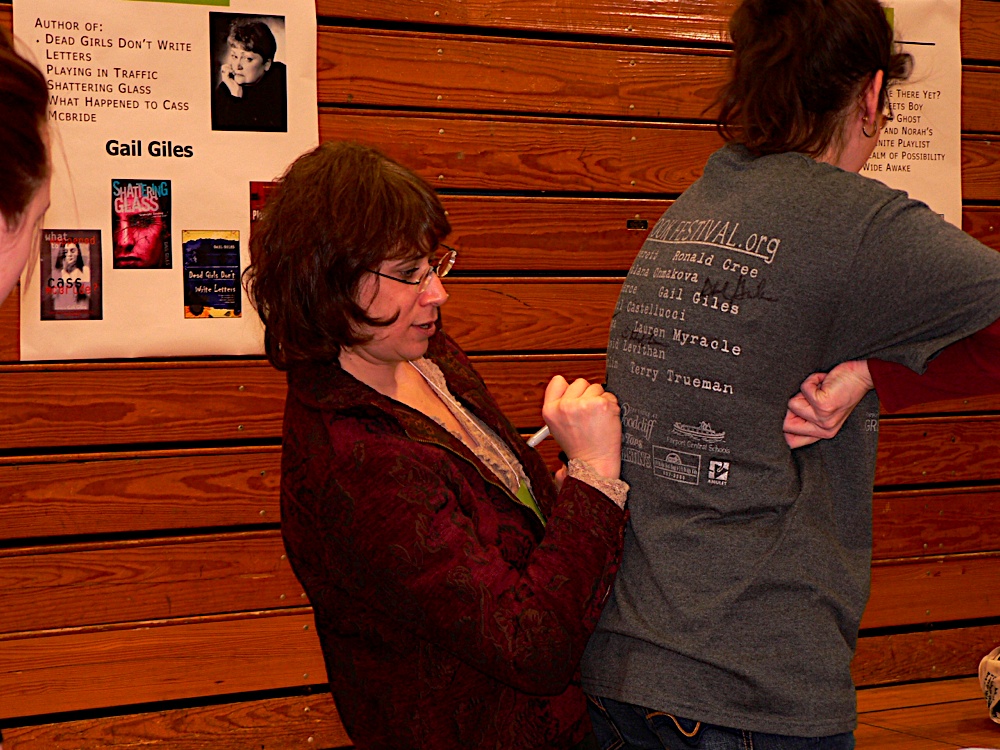 At the conclusion of the author breakout sessions, head to the autographing session with all of our authors.
Be sure to look at the program; the autographing takes place in several locations with different authors. It's your last chance to tell the authors what an amazing day you've had with them.
Be sure to say thanks to all the TBF volunteers as you leave—the day wouldn't be possible without their help!